LODD LIMA AIRPORT FIREFIGHTERS:
FF Ángel Torres Fire Company 6 (

Compañía de Bomberos Garibaldi 6)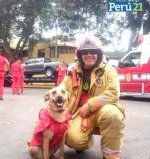 El padre de Ángel Torres, hombre de rojo que murió tras accidente en el aeropuerto de Jorge Chávez, solo tuvo palabras de amor para su hijo.
peru21.pe
The family of Angel Torresone of the firefighters who died last Friday in the Jorge Chavez Airportwhen he was maneuvering a truck that collided with a
california18.com
FF Nicolás Santa Gadea Fire Company 7
(
Compañía de Bomberos Garibaldi 7)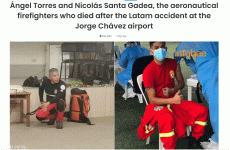 Lima Airport Partners, the airport operating company in Peru, confirmed the death of the aeronautical firefighters Ángel Torres and Nicolás Santa Gadea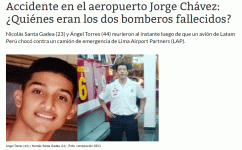 Nicolás Santa Gadea (23) y Ángel Torres (44) murieron al instante luego de que un avión de Latam Perú chocó contra un camión de emergencia de Lima Airport Partners (LAP).
diariocorreo.pe
Prayers for family and friends.

RIP.
Last edited: