Joined

Jun 19, 2015
Messages

73
Hi folks,
from time to time i'm producing little graphics with Microsoft paint.
They are very simple but i put a lot of effort in each one to make it as realistic as possible and still keep it as small as possible.
(Sometimes i do bigger ones)
Since i live in Germany these graphics are mainly showing german fire trucks.
But in the last time i decided to try out some USA/New York stuff.
Maybe you guys like my stuff.
Your feedback is very much appreciated.
Foam Tender Unit

High Rise Unit 1

Collapse Rescue 1

NYPD Chopper

NYPD ESU

Squad 61 + 2nd Piece

Battalion 13

New Squad (Marauder II)

Reserve Rescue (Mack/General Safety)

Satelite 1

Old Rescue 1

TSU 1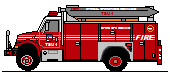 Hazmat 1 + 2nd Piece

Dale County Quint 55 (Fictious)

Rescue Engine 44 (Fictious)

P.S : If you want to see some of the german ones feel free to ask.
Kind Regards
Christoph_51