Engine 33/Ladder 9 (continued)





Engine 33/Ladder 9 LODDs





FIREFIGHTER KEITHROY MAYNARD ENGINE 33 September 11, 2001



World Trade Center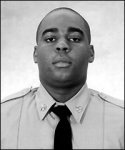 Remembering Keithroy Marcellus Maynard, Devoted Father and Vulcan Society Member
Keithroy Marcellus Maynard is seen dressed in bunker gear as he poses for a photo with a child and an older woman. In an accompanying photo Maynard poses for a photo in a formal FDNY outfit.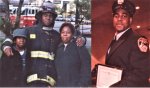 LEFT: KEITHROY MARCELLUS MAYNARD DRESSED IN BUNKER GEAR. RIGHT: MAYNARD IN HIS FDNY DRESS UNIFORM. PHOTOS COURTESY OF THE VOICES OF SEPTEMBER 11TH LIVING MEMORIAL PROJECT.
Born on the small Caribbean island of Montserrat, Keithroy Marcellus Maynard moved to New York City when he was 13. Maynard's father, Captain Reynold White, was a 33-year veteran of the FDNY and a member of the Vulcan Society, the FDNY's organization of black firefighters. With the mentorship and support of his father and other members of the Vulcan Society, Maynard prepared for the FDNY's qualifying exams, earning near-perfect scores. He was appointed to the department in 1999.
In an oral history recorded by the 9/11 Memorial Museum, Maynard's mother, Pearl, remembers her son's determination to become a firefighter and help people in his community:
"He wanted to have a job where he helped people, be of service to people, whether it's children, elderly people, or his community. He joined the fire department in 1999. If Keith sets his mind to do something, it's something he wants to do, he's gonna move every one of them and get it done, or get it, get to where he wants to be."
Maynard was assigned to FDNY Engine Company 33 in the East Village neighborhood of New York City, but he hoped to eventually transfer to the firehouse near his home in East Flatbush, Brooklyn. He wanted to serve as a role model for children in his neighborhood, demonstrating that they could become firefighters, too.
Maynard joined the Vulcan Society, as his father had before him. Building on years of experience as a union organizer for the International Association of Machinists and Aerospace Workers, Maynard quickly rose to leadership and became the Vulcan Society's Sergeant-At-Arms, making him the group's youngest officer. While serving in the FDNY, Maynard worked to instill a love and respect for the firefighting profession in his son, Keithroy Jr.
On 9/11, Maynard was on duty at Engine 33, having switched shifts with a coworker so he could attend a meeting at Keithroy Jr.'s school on September 12. Maynard responded to the World Trade Center and was killed in the collapse of the towers, along with nine colleagues from his company. He was 30 years old.
After Maynard's death, his twin brother, Kevin, joined the Houston Fire Department in his memory. When Kevin graduated from the fire academy, members of his brother's firehouse travelled to Houston to attend the graduation.
Kirsten Madsen, Assistant Manager of Memorial Exhibition, 9/11 Memorial Museum
https://www.911memorial.org/connect...nard-devoted-father-and-vulcan-society-member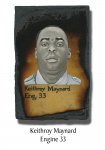 http://betterangels911.com/firefighter-keithroy-maynard/
RIP. Never forget.