ENGINE 67 (CONTINUED)






ENGINE 67 LODDs




LIEUTENANT DANIEL J. SHEEHAN ENGINE 67 November 5, 1905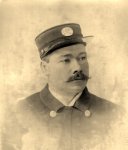 Assistant Foreman Daniel J. Sheehan was killed while fighting a two-alarm fire at 284 St. Nicholas Avenue. Sheehan had relieved the officer of Engine 37 for breakfast on November 5, 1905. Five minutes before the officer of Engine 37 returned from his breakfast, Box 778 was transmitted. The company responded and started laying hose lines and attacking the fire. A boiler on the fifth floor of this five-story building exploded blowing out thirty feet of brick wall. Assistant Foreman Sheehan and four of his men were entering the cellar through the airshaft when the wall came down on them. It took over ten minutes to dig the men out. Assistant Foreman Sheehan was killed instantly while the other four men received various injuries. - from "The Last Alarm"
RIP. Never forget.
Last edited: