ENGINE 207/LADDER 110/SATELLITE 6/BATTALION 31/DIVISION 11 (CONTINUED)
ENGINE 207 LODD
FIREFIGHTER KEVIN REILLY ENGINE 207 SEPTEMBER 11, 2001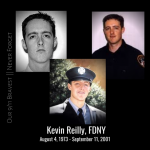 ROCKLAND REPORT



We Remember Kevin Reilly FDNY (August 4, 1973 – September 11, 2001)Published 1 year ago

on August 5, 2019

By Rockland Report Editor

In Memoriam Sept 11

We Remember Kevin Reilly, 28, FDNY (August 4, 1973 – September 11,2001) Yesterday Kevin would have turned 46. Reilly, of Pearl River, grew up in Spring Valley and graduated from Albertus Magnus High School (class of 91) Upon graduating College, he joined the FDNY in February 2000 and was proud to be assigned to Ladder 40 in Harlem, where his father had served for over 16 years. He was then assigned to Engine 207 in Brooklyn. Reilly was very athletic; he was a member of the FDNY's softball team, had a black belt in Tae Kwon Do' and completed the 1998 New York City Marathon in four hours and 17 minutes.

In July of 2001 Kevin would marry the love of his life, Jennifer Mulderrig of Pearl River. They moved to Manhattan's Upper East Side and had two perfect months in their new home.

On September 11, Firefighter Reilly responded to the World Trade Center with Engine Company 207.

Voice of September 11th (Kevin Reilly)

Kevin's plans, dreams and hard work were just coming to fruition. He was delighted with his appointment to the New York City Fire Department in January 2000, and especially proud to be assigned to Ladder 40 in Harlem where his dad had served.

He had recently rotated to Engine 207 in Brooklyn where he planned on gaining valuable experience. Early in 2001 , Kevin incorporated his own business as a consultant based on his expertise in hydrogeology.

On July 7, 2001 Kevin married his high school sweetheart, Jennifer Mulderrig. They settled into their new life on Manhattan's Upper East Side where life was perfect for a short time.

Kevin died in the historic rescue attempt at the World Trade Center with 342 of his brother firefighters. He was 28 years old.

In addition to his wife, Kevin is mourned and missed by his parents, Joan and George, his brother Edward, and his sister Regina Madigan, her husband William, and their daughters, Sarah and Niamh. He was loved and treasured by his new in-laws, Mary, Michael and Brendan Mulderrig. Kevin's grandmother, Marie Reilly, just recently joined him in heaven.

While at Albertus Magnus High School, Kevin was always busy. He ran track and cross-country, played baseball, and was president of his Senior Class. He graduated from SUNY Oneonta with a B.S. in Hydrogeology and was president of his fraternity, Phi Kappa Sigma. Before joining the fire department he worked for AKRF Environmental Consultants in White Plains.

Kevin's work ethic and determination fueled a successful completion of the New York City Marathon. His sense of adventure led him to backpack through Europe and had him bicycling to work over the Brooklyn Bridge as he did on that beautiful, terrible, September morning. Kevin's generosity, sense of humor, boundless energy, and eternal optimism made him indispensable to his family and his many friends.

He is always on our minds and will be forever in our hearts.

https://rocklandreport.wpengine.com/we-remember-kevin-reilly-fdny-august-4-1973-september-112001/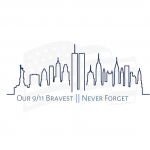 Our 9/11 Bravest ॥ Never Forget
August 4
Today is the birthday of FDNY firefighter Kevin Reilly. He was born on August 4, 1973, and would have been 47 years old today. We will never forget the ultimate sacrifice that he made on September 11, 2001.
Kevin Reilly came from a family of firefighters. His father, George, was a retired fire lieutenant. And his wife of two months was the daughter of another firefighter. Reilly, who started his career at the same firehouse as his father, was one of those killed on the Sept. 11 attacks on the World Trade Center.
"He loved the fire department," said his wife, Jennifer. "He liked the camaraderie and the brotherhood and it was in his blood."
A 19-month fire department veteran at the time of his death, Reilly, 28, was just starting the second year of a three-year rotation, when firefighters spend a year each at three different stations. He spent his first year at Ladder Company 40 in Harlem, where, on the wall, is a picture of him as a toddler attending a Christmas party with his father, his wife recalled.
"He was actually working with people who had worked with his dad," Jennifer Reilly said.
More recently, he was working with Engine Company 207 on Tillary Street in Brooklyn. Reilly grew up in Spring Valley and Nanuet, N.Y., graduating from Albertus Magnus High School. He was a member of the high school baseball and cross-country track teams and was president of his senior class. It was in high school that he met his future wife, now an elementary school teacher. Reilly later attended SUNY Oneonta, where he became president of the Phi Kappa Sigma fraternity.
For a while, it did not seem as if firefighting would be Reilly's calling. Studying water resources in college, he worked as a hydrogeologist before he was appointed to the fire department in February 2000. Reilly, who once backpacked through Europe, was a runner outside of work, finishing the 1999 New York City Marathon in four hours and 17 minutes, family members said. He also played softball for the fire department.
He was a big Yankees fan, they said. "He was full of energy," said his mother, Joan. "He was athletic. He loved to travel and was very good to his family." Jennifer Reilly recalled that her husband once told her three things: He would be a firefighter, she would be a teacher, and they would be married."It all came true," she said.
New York Newsday, 2001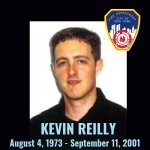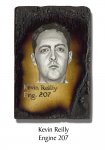 RIP. NEVER FORGET.
Last edited: